Norfolk Day 2021: How we celebrated in style – all week long!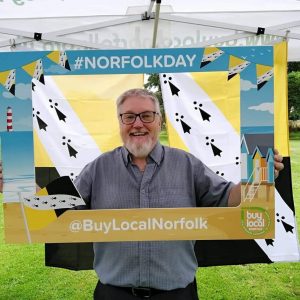 Our Norfolk Day Networking and Buy Local Norfolk tour throughout last week was a huge success. We want to thank everyone for their support and encouragement!
If you didn't already know, Norfolk Day is spearheaded by Eastern Daily Press, BBC Radio Norfolk & The Evening News, celebrated annually to share and embrace all the things we love about Norfolk!
Norfolk Day presented us with an obvious opportunity and Buy Local Norfolk jumped at the chance to raise the profile of our local, independent businesses.  With restrictions lifted, we were determined to lead the way to encourage people to discover what is on their own doorstep.  With this in mind, we knew it was time to take Buy Local Norfolk on Tour around our amazing county! 
Who did we visit on our tour?
We spent Tuesday 27th July to Sat 31st July on the road visiting over 50 of our lovely members and other local businesses. We have been so inspired and motivated by everyone we met and loved getting to know them, learning about what they do and shouting about their businesses on social media as we went!
Did you get a Norfolk Day Selfie with us? We have a fab collection of BLN On Tour selfies and videos which we have been sharing on our Instagram profile. Go and check it out to see if you can spot yourself or someone you know! 
Thanks to Example Marketing for creating the Norfolk Day Selfie Frame for us – we love it!