What makes Norwich a brilliant place to live?  Lots of things!  One of them is that we have a lot of great independent shops to choose from.  Residents and visitors alike love the Lanes in the city centre.  But we also make good use of the shops that are really for everyday life, in the parts of the city we live in.  I represent Norwich North, so whilst I adore our city centre, my first priority is everything outside it to the north – from Hellesdon and Mile Cross at the river Wensum to the west, to Thorpe St Andrew at the river Yare in the east.
Buy Local Norfolk are big supporters of the local economy:  if you buy local, they argue, you're supporting your local community.  This leads to more local jobs, more local character, more local choice, and of course less environmental impact too.
Buy Local Norfolk asked me to take part in their "Buy Local Challenge".  I decided to do this with a theme – as a proud new parent, what could I "buy local" for our eleven month old son?
No surprise if I headed first to Kerrison Toys, on Aylsham Road.  At the height of summer, a bright coloured water-wheel toy and sandpit supplies were just right.
I needed a few things for bath-time too, so enjoyed meeting the knowledgeable team at Babyland, also in Mile Cross.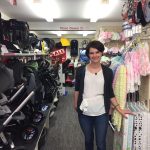 At eleven months, he and his tiny friends are all about to have their first birthdays.  So I needed some cards at the very least, and at The Card Shop in Sprowston I found cards, balloons, bunting and…a rosette!  Being a politician I won't burden the little guy with a proper rosette just yet, but a nice white one for his first birthday seemed like a fun touch.
I do stress that these are just a few examples of the many excellent local shops in north Norwich;  I don't endorse them over others nor criticise the rest.  This is just a light-hearted look at how it is possible to "buy local" and support my constituency.  I'm grateful to the Buy Local team for their hard work in advocating it all year round.
So why not get out and see what's new in local shops today?  Wherever you live, there's a shop near you that is a crucial part of the local community.  "Buy local" and you can be part of investing in the Norwich and Norfolk that we all love.