Shred Station is on track to plant 10,000 trees in 2022!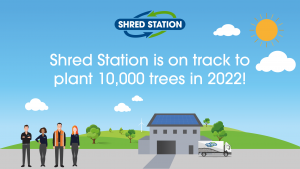 Shred Station is on track to plant 10,000 trees in 2022!
Norfolk-founded shredding service provider and Buy Local Norfolk member, Shred Station, is on
track to achieve its mission of planting 10,000 trees in 2022.
Shred Station launched its 10,000 Tree Challenge at the start of the year, aiming to support tree-
planting initiatives where they are needed most across the world. To achieve this goal, Shred Station
staff are participating in many fundraising events that have so far included a baking competition, a
giant Easter egg raffle and a bowling tournament. With enough funds already raised to plant 2,595
trees in Kenya, Mozambique and Madagascar, the company is on track to meet their target with
many fundraising activities still to come.
The company's next fundraising event will see the company's directors getting well and truly stuck-in
with a 'Pie Face Day'. Risking a pie in the face in the name of tree planting will be Simon Franklin,
Shred Station's founder and Managing Director, as well Kristian Carter, Commercial Director, Ross
Akers, Finance Director and Oliver Grice, Operations director. Each of the directors has two jars, one
virtual and one at the company's Norwich head office. Between now and June 16th , employees,
suppliers and customers are being encouraged to donate into these jars. The director with the most
money in their jars come June the 16th will receive a ceremonious pie in the face.
For external donors and remote employees considering donating, the event will be recorded and
uploaded to the company's social media channels so nobody will miss out on the action.
The 10,000 Tree Challenge is just one of the many steps Shred Station has made to increase the
environmental friendliness of its operations. The company has a strict zero-to-landfill policy, an
ultra-low emission fleet, and also has a Shred a Tonne, Plant a Tree scheme for their customers. Not
only that, but Shred Station is also now in its fourth year of being a CarbonNeutral® certified
company.
If you'd like to follow the company's progress in their journey to planting 10,000 trees, they will be
posting regular updates to their LinkedIn page.