A FUR-BULOUS SIGN FOR DOG- FRIENDLY BUSINESSES
With dog ownership soaring, BDH Tullford's new pavement sign is a great way for dog friendly businesses to encourage dog owners and their pets to paws and unwind
We've always had a soft spot for our canine friends here in the UK, but dog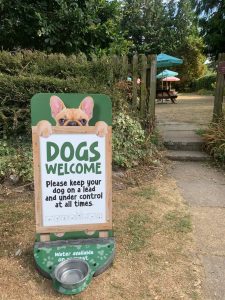 ownership has risen to new heights since the coronavirus pandemic. According to the Pet Food Manufacturers Association (PFMA), the UK dog population now sits at a staggering 13 million, up from an already sizeable 7.6 million in 2010. For businesses, opening up their doors to dog owners and their furry friends therefore offers a great opportunity to increase sales.
To help local dog-friendly restaurants, cafés, pubs and shops promote that they  welcome dogs, Norwich-based point-of-sale experts BDH Tullford has designed an eye-catching pavement sign with a built-in water bowl, which is perfect for attracting the notice of dog owners while they're out and about with their dogs. When the pup stops to enjoy a much-needed drink on a warm day, their owners can be enticed inside by the sign's messaging, where they can get some refreshment of their own. On a crowded high street, this can really help a business to stand out from its competitors.
Each sign is easy to assemble for minimum fuss and comes with all fixings and costs just £85(+VAT) including delivery.
The welcome sign package also includes:
● A graphics panel manufactured from powder-coated and tempered aluminium for flexibility and durability. Its sides are UV varnished to provide protection from the weather.
● A tough recycled black PVC base.
● A non-slip 6.5" stainless steel water bowl, secured by a bowl holder made from durable 3mm polycarbonate.
● UK delivery.
For more information or to order, please contact: sales@bdandh.co.uk or call 01603 620780