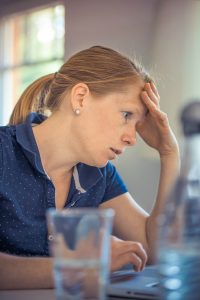 Do you know what? A lot of the time I'm lazy when it comes to writing content.
There's just too much to do every day and when it comes to my own business I often don't spend as much time on it as I should. But there are certain times when you hit a deadline and have to pull out all the stops.
That's when I create the best content!
Like the time in our previous business when I got the date wrong for some print we'd booked in. We had booked to go to print on 20,000 leaflets and had to sell space in those leaflets to cover our costs.
We had just run a major exhibition that day, so when we got home that evening we were looking forward to relaxing.
"Thank goodness that's over. We can finally have a rest," I said to Chris, as I scanned an email that had come in that day.
Then I stopped. My heart started pounding. My stomach tightened with a horrible feeling of dread.
You know that feeling when something goes wrong in a major way. I mean MAJOR? Luckily I don't mess up like that very often, but at the end of the day, we're all human.
I looked at my screen, looked again in case I'd got it wrong, then asked Chris to look at it.
No matter how much I looked at the email, it still said the print was booked in for the next day. I'd had it in my diary for the following week.
We were exhausted after a day running a stressful event and suddenly had to sell 15 slots in our leaflet that was due to go to print the next day.
We'd been doing this print for a while and it always took ages to sell the advertising slots. How on earth would we fill them in just one day?
But it was a case of selling those slots that evening or forking out thousands of pounds for a leaflet that we couldn't print. You see, it wasn't just the print. We'd booked slots for the leaflet delivery to 20,000 homes, and it was too late to cancel.
That's when my brain went into creative mode.
I wrote the best copy that I'd ever written.
We sent out an email that night and by the next day, I had sold all the slots. It's the fastest I had ever sold anything. We covered all our costs and got it to print in time.
A similar thing happened (although not as heart-poundingly dreadful) a few years after that.  We ran a networking marquee at the Norfolk Show – it was a joint venture with Buy Local Norfolk and another networking group and we'd had to sell stands in the marquee to cover our costs. (this was quite a few years ago, by the way). At the last minute someone dropped out, so we had just a few weeks to re-sell the stand. If we didn't sell the stand we'd all lose money on the event. The prospect of losing money is a great motivator, so I sent out a message to my LinkedIn group.
No response.
What to do?
Well, the following week I re-wrote that message and sent it out again to my LinkedIn group. Within 5 minutes I had sold the stand and had four people on the waiting list.
All I did was change the wording. It was the same audience, the same information, but I tweaked the wording to talk about the benefits of having a stand and to explain the deadline.
I don't hold myself out as a copywriter – in fact I employ copywriters for a lot of our client content, but when something is important, I can usually come up with some wording.
When it comes to day to day content, Chris is much better than I am. He has a way of coming up with phrases that are perfect for social media posts. I have to write them down quickly, though, as we both forge them the next second.
So, if it's hard to write good content, how on earth do you manage to write social media posts every day? Well, for me, it's all about systems. Systems and focus, and using the right tools.
There's nothing to stop you re-using content, for example, if you do it in the right way. How about taking something that you've already done, and re-purposing it?
What about listing all the questions you get asked?
For me, the biggest driver is the need to help people. I share information even if I'm not getting paid for it – just because I like helping people.
At this month's Social Media Hub workshop we'll be covering some of our tips on how to create written content, and how to get your content in front of people on a consistent basis.
I can't guarantee you'll make sales, but I can guarantee that if you follow our tips, you will get in front of more people, more consistently, and get your message across more clearly.
And although I love giving away tips for free, I do need to charge for this one. The cost is £49 for a one-off booking, or you can set up a monthly direct debit and get my Social Media Hub workshops for £39 per month (plus online support).
Email me sara@brightyellowmarketing.com to book your place or click here for more details.
You can choose from two dates:
26th June (Norwich, no8 Thorpe Road)
29th June (Hethersett, Rowan House)
Look forward to seeing you.