Increase your online presence with SEO
As a digital marketing agency, we've learnt to be on the ball at all times. With the market evolving at such a fast pace and core Google algorithm updates being rolled out between three to five times a year, we have to keep up to speed with the ever changing realm of the digital world. With this in mind, Google's recent and upcoming algorithm updates have certainly been keeping us busy. 
The most recent core algorithm update was Google Page Experience update which encompasses various page experience criteria that needs to be met and Core Web Vitals scores. 
What are Core Web Vitals?
Core Web Vitals amalgamates various scores based on different page loading factors found on the frontend of your website. In layman's terms, page speeds are already a key factor when it comes to your landing page experience and the Core Web Vitals update measures your website against three different scores which can impact how quickly your site loads and how it looks after it's fully loaded. These scores are First Contentful Paint (FCP), Largest Contentful Paint (LCP) and Cumulative Layout Shift (CLS). Overall from our own analysis and research, the majority of our client's rankings haven't been affected by this algorithm update and some of Google's suggestions to improve your Core Web Vitals score should be taken with a pinch of salt in the case where you compromise rich content and quality. We've been focusing on ensuring our client's websites offer the best user experience imminently. 
What else falls under the page experience criteria?
There are numerous factors to be considered when aiming to achieve the best page experience for your users, included in this is:
Mobile-friendly website

Page speeds

HTTPS 

Safe browsing

Accessible to the user
Page experience is vital to any online website, whilst a large part of SEO is focused on optimising your website to appear highly, and most importantly above your competitors, in the Search Engine Result Pages (SERPs), if users arrive on the site but are left feeling frustrated from their experience, you could still lose them to your competitors. We've been focusing heavily on improving page experience in recent months, which can be seen through our work with local teacher training providers Inspiration Trust and Golf Geeks, a local company selling premium used golf clubs throughout Europe. 
With Inspiration Trust, we made page speed improvements a priority and wanted to add some clear Calls to Action (CTAs) to ensure users are pointed in the right direction when landing on the site and have a smooth journey to the point of conversion. We did this by adding clickable buttons above the fold (everything you can see when first landing on a page prior to scrolling).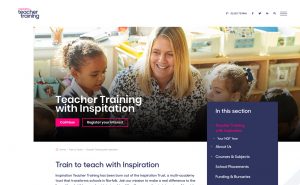 For Golf Geeks, our priority was to ensure that the site worked just as well on mobile as it does on desktop with a large percentage of their users arriving on the site via mobile. As well as this, we worked on the navigation to ensure that it was consistent with branding, simple and easy to navigate, and that the eye was drawn to the right places.

These are just a few examples of implementing a strategy to improve page experience and user journey to keep up to date with Google's latest algorithm changes. 
If you would like to find out more about how we can help with your online presence with our SEO services, then be sure to get in touch at [email protected] or call us on 01603 859007.