Are you a Family Run Business? Communicate it! | Nu Image
Are you a Family Run Business? Communicate it!
Struggling to think of an advantage you have over your competition? Well if you are a family run business you already have one. It is said that if you have a business that is run by your family you are immediately trusted more by customers over larger companies. However this advantage needs to be maintained and you need to prove to your customers that you can live up to the advantages of choosing a family run business such as fast communication and a more immersive customer experience. Below we have given a few examples of local Norfolk based companies that are family run and how they live up to their business expectations.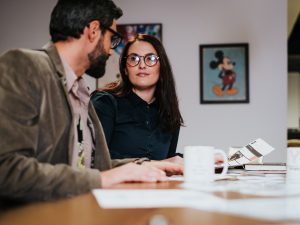 Landamores – A History of Boatbuilders
Since 1923 Landamores have been building boats in Wroxham and Hoveton, throughout their years of business they have developed what they specialise in as well as passing the business down through their family as they go. Starting as a day hire company and working their way to building bespoke launches and tenders as well as soon branching into motor yachts. This business has had a lot of services, all of which have been tailored uniquely to their customers needs.

Being a family led business means that customers have certain expectations, one of which is that they (the customer) should be put first. It is said that "67% [of people] believe [that a family run business] puts customers at the heart of the business" (Marketing Weekly), Landamores make sure to live up to this expectation by taking each customer on a unique journey with them. When a customer enquiries, Landamores reach out to them and communicate if they feel the boat they are enquiring about is not the right fit for them. Guiding their customers down a path that is best suited for their desires is something that adds value to their family brand. When enquiring about one of their expertly crafted vessels you are welcomed and treated as part of their family, which you would not experience with a larger corporate boat sales company. 
PSH Environmental – An Environmental Family 
Family owned and run since 1985, PSH Environmental are proud to have a range of family members helping out with their business. Family run businesses are usually smaller in reach and can sometimes fall under the radar but PSH have made the most of their family and community brand by doing what they do best, giving back to the people who choose them!
Buying into a sense of community is a large benefit for many customers and will sway them towards your service over a larger national company. PSH have put together an amazing scheme that gives some of the money customers use back into their community by giving £1 of each skip hire to fund a new woodland in Norfolk! This Clean Up To Green Up scheme is a major incentive to those local to Norfolk, with every skip they hire from PSH their money is going towards putting trees back into a deprived area of land and best of all local land. Who wouldn't want to buy into this family business? 
Stronger Together
You will find that with a family run business there is a sense of stability, as there is a feeling of pride and determination to make those who have come before you proud. Although there are many advantages to having a family run business it is true that family doesn't necessarily have to be a blood relative. You can make a family of your own, blood or not! Here at Nu Image we are one big family and although we all come from different backgrounds we all buy into the business. We work together to help Nu Image grow and expand through digital marketing, web design and a fine bunch of laid back people! See how we can help your business grow by becoming a member of our family! Contact us today on 01603 859007 to talk to one of the fine bunch of people we mentioned!