North Wootton Village Market will celebrate its third anniversary at this Saturday's event – 17th July.
Launched as a fundraiser for North Wootton Village Hall in 2018, the Village Market is now a monthly mainstay giving visitors the chance to enjoy the best in local produce and makes as well as meeting the people and families behind the local businesses.
The Village Market has gone from strength to strength over the last three years, growing to around 16 stalls offering fresh meats and cheese, artisan bread, jams and preserves, seasonal vegetables, Indian cuisine, confectionery, cakes and treats, greetings cards, bottled beer, freshly cut flowers, and more.
North Wootton Village Hall's Events Organiser, Antony Lamb and owner of Vintage Partyware, said;
"The Village Market is a popular event attracting people from the village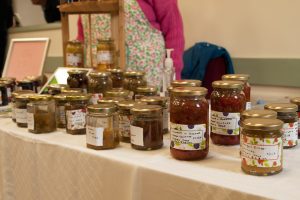 and further afield. We try to keep to 'one of a kind', meaning there is always variety and interest for those who visit. We have some fantastic producers and makers in West Norfolk, and changes in the way people now shop has meant that the Village Market is well suited to those consumers wanting to buy local, who take an interest in where their food and drink comes from, who pay attention to the environmental benefits from the reduction in transport of goods, and those wishing to support small, independent businesses".
The Village Market has recently made a post-covid comeback after having to close through the national lockdowns, which was very difficult for many small businesses. Antony went on to say;
"It's nice that we have been able to support some of the smaller businesses locally while they were in the start-up stages, introducing them to a customer base. We have many stallholders who have been with us from the start as well as newer ones too, and a great customer base who turn out in good weather and in bad."
The Village Market takes place at North Wootton Village Hall on the third Saturday of every month, 9am – 2pm.
All money raised goes to North Wootton Village Hall, a Registered Charity, and is used towards the upkeep and refurbishment of the hall. More information can be found on the
Village Hall's website
and also on
Facebook
,
Twitter
, and
Instagram
.