January Buy Local Norfolk FREE Online Networking
January Buy Local Norfolk FREE Online Networking
January 5 @ 6:00 pm

-

8:00 pm

Free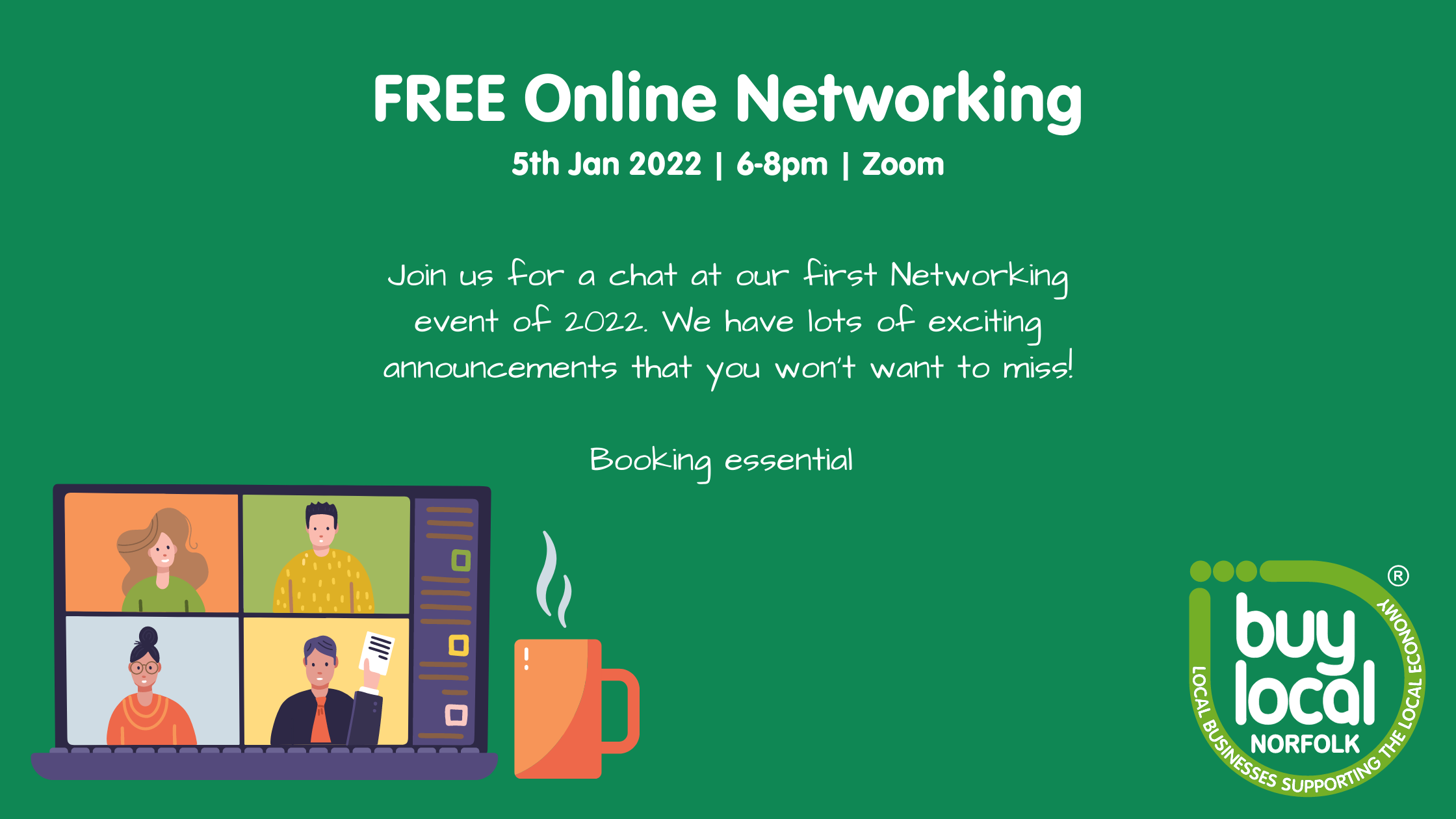 Buy Local Norfolk Online Networking
If you're looking for Networking opportunities in Norfolk, you should definitely come along to a Buy Local Norfolk Online Networking evening.
Held on the first Wednesday of each month.
Members, guests and anyone else with an interest in Buy Local are all welcome…what's more; they're completely FREE!
To book your place, please purchase your ticket here on Eventbrite and you will receive the Zoom meeting link via email 2 days before the event. You will also receive reminder emails with the link shortly before the event starts.
How can networking help your business?
Networking is a great opportunity to meet potential customers, suppliers and collaborators. Building those connections can help your business grow exponentially. Most people like to do business with people, so if you personally are visible, likeable and helpful your business is immediately more appealing.
But it's not all about making sales. Having a network of other professionals you can call on can make a huge difference to your business. Most business owners will come across similar problems throughout their careers, so they may be able to share some sage words of wisdom with you.
And don't forget, you're not just presenting yourself to the people in the room. They will all know plenty of other people who could be your customers if you create the right impression and continue to build relationship on and offline.
Our Top Online networking tips
You could include your business branding in the background, to help others remember you and your business!
Prepare a short 1-2 minute introduction to your business. You will have the opportunity to tell the group who you are and what you do. If you've already thought about it, there's less pressure on the day
Think about what sort of business it would be helpful for you to connect with and see who in the virtual room can help you
Listen to what other people have to say; don't just talk about yourself!
Smile!
Code of Conduct – Online and Offline Event Participation
Buy Local Norfolk (BLN) is dedicated to providing a safe and professional environment, (meetings, events, activities, both online and offline) for everyone. BLN does not tolerate harassment in any form and BLN participants violating these rules may be sanctioned or expelled from BLN networking and events, including online communities and events.
Expected Behaviour
• All members are expected to be respectful, kind, and professional
• They will exercise consideration and be mindful of others
BLN networking is intended to be a business development and social event, please conduct yourself and your choice of language appropriately. At our "round the room" introductions, please use the opportunity to speak about yourself and your business, as well as outlining what you are looking for from the networking event.
Please also maintain these standards of behaviour in online communications in our online forums, remembering how words may be misinterpreted by the community.
Unacceptable Behaviour
Intimidating, harassing, discriminatory, abusive, derogatory, or demeaning speech or actions by any participant, at any BLN event, online or offline, as well as on our social media platforms will not be tolerated.
Consequences of Unacceptable Behaviour
If a participant engages in unacceptable behaviour, BLN directors or staff members may initiate any reasonable action they deem appropriate, including removal from BLN online forums or events. Membership may also be revoked with no refund of monies paid.
Contact Information
If you are being harassed, notice that someone else is being harassed, or have any other concerns involving someone's welfare, please notify a member of the BLN team or email [email protected] BLN will be available to provide assistance, so that those experiencing unacceptable behaviour will feel safe at our events.
If you would like a copy of the full unabridged code of conduct, please contact [email protected]
BLN values your participation.