My Kickstart Employment Journey – Part 1 – Tom Scott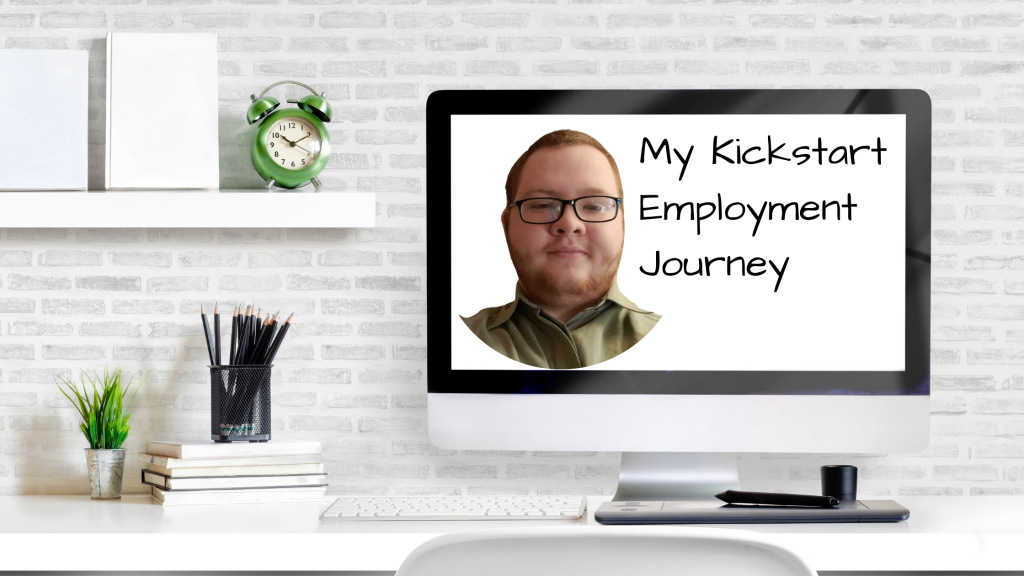 My Kickstart Employment Journey with Buy Local Norfolk
Tom Scott has been employed by Buy local Norfolk for a little over 2 months now and has shared his Kickstart employment journey to date …
How did you find the interview process?
I found the interview process very interesting, as this was my first time ever having one online. I was sitting at my computer almost an hour early ready for the interview, fully waiting, pretty nervous about the interview having not had a lot of luck in my last few interviews. During the interview, I did my best to calm my nerves which seemed to go well for me; I was able to answer questions to the best of my ability and ask questions in return. As time went on, I felt more and more relaxed as Glynn, Missy and Kerry really made me feel comfortable during the whole thing. Before I knew it, we had run out of time – I couldn't even finish all the questions I had written. To my surprise, I was told I was the perfect candidate, which made me feel over the moon having never really heard that from an interview before. After only 30 minutes, I got a call after the interview to tell me I had got the job.
What were your expectations coming into the job?
I wasn't sure what to expect when coming into the job. A job title like Administrative Assistant could mean quite a few things, but the main thing I was happy and excited about was being able to start a position in administration. I had been looking for an admin-based job for quite some time, so whatever was going to be thrown at me I was looking forward to taking on.
What have you been doing/learning?
I have been given various tasks and learned a lot along the way. Most of my work is focused on engaging with members on the Buy Local Norfolk Twitter page. This allows me to interact with members of BLN, and get to know the people behind the businesses a little better – as well as learn more about what they do. I really enjoy this part of my role and have received lots of positive feedback about my online interaction skills. I have also been working on a lot of research projects and recording the data onto Google Docs and Sheets. These tasks help with the planning and promotion of BLN events and activities and it feels good to be able to support the bigger picture and work as an effective part of the team.
What has challenged you the most so far?
For me, the most challenging part of the job has been getting used to what I am tweeting. I am not normally one to post on social media, mostly just sharing images on Facebook or using Facebook Messenger to talk with friends. So, getting used to tweeting, and having to make sure it fits within the company standard took me a little bit of getting used to. I also had a bit of a struggle with hashtags and I still sort of do. Knowing when to put a certain hashtag in a post slips me up a lot in areas, but without the hashtag it might not reach everyone I want it to. I am slowly getting the hang of it, but there are times where I still struggle a little. To help me along with this issue, I have talked about it a lot with Missy during our one-to-ones to help me remember and to help me learn the different hashtags I should be using. I also have a written process I can follow and add to with any useful hints and tips that have either been supplied to me or that I have discovered on my own to improve my efficiency.
What have you enjoyed most about your kickstart employment so far?
I have really enjoyed working on Twitter; although at first it was challenging, it has become a lot of fun to do. Interacting with so many people, and getting to know all of our members in some way has been interesting. I have also enjoyed working with a lot of the little projects given to me, as I can sort of treat them like a puzzle. Like finding out all the information I need, and cross-referencing it to make sure it is all correct; some have been pretty challenging but I still enjoy them a lot!
Do you feel that the skills you are learning will help you on your employment journey?
In short, yes, I do. I am looking to continue working within administration after this if possible, so any and all administration experience I can get from this is perfect for my employment journey. But not only that, it is giving me a lot of things to put on my CV such as working with social media. It's even allowing me to meet different people through networking, to learn about new businesses and maybe even some I have never heard about but would love to work for. This gives me the chance for so many new opportunities.
Do you think the government's Kickstart Employment Scheme is a good idea?
I personally think that the Kickstart Scheme is an amazing idea. Without it, I might not have been able to get a job like this, as admin work for people without experience is very hard to find. Most employers ask for at least a few years of experience, and without finding a place to start, this is near enough impossible. I think the Kickstart Scheme not only gives young people such as myself a chance to work, but also a chance to work in the fields in which we want to work. It gives us that little push into the working world that we need to get started in the careers we are looking for.