You will find here offers made by members of Buy Local Norfolk exclusively for fellow members of Buy Local Norfolk. If you are a member and wish to make a special offer just email details to admin@buylocalnorfolk.org.uk
Worried about what to do with the kids this Easter??
Norwich Art School is offering a free half day of Easter club day (09.00-13.00) for Buy Local members only, Free first class of the after school set course during term time; free one drop in session during term time.
Fine Art for Easter holidays for children 7 to 16 years old, 09.00 -17.30, more info can be found here Norwich Art School website and here Norwich Art School Facebook
Quickbooks Online Plus Reduced Subscription offered by Richard at TBS Norwich…
Move your Accounts to the cloud for a very special rate. As part of joining the great Buy Local Norfolk Group we have decided to go a little crazy and are offering Quickbooks Online Plus Subscription for £5 per month (plus VAT).
This is only available to first time users of Quickbooks Online as part of a deal we have struck with Intuit.
To see what is available in the full Plus version of Quickbooks Online you can check out the comparisons here:
https://www.quickbooks.co.uk/accounting-software/online/compare/
Even if you did not feel you were ready for Plus you will be future proof, this price will be secured for life as long as you continue to buy Quickbooks Online through us.
The other benefit of buying through us is you will have unlimited Quickbooks Online Users and payroll will be free until at least February 2018
If you do not want to switch accountants we can still give you this price, and you will still have another accountant slot to add to your records so that they can easily look at your records and advise you throughout the year.
Our Services Reduced Subscription
If however you do want to use us for our services you can look at our standard menu here http://www.tbsnorwich.co.uk/services/
We will give £10 off every monthly subscription from our standard services. We offer a range of services none of which include Year End as standard, so you can stay with you existing Tax Adviser. Our prices include Quickbooks Online as standard.
Email richard@tbsnorwich.co.uk to discuss your requirements."
Coleman Opticians special offer to
Buy Local Norfolk

members

We all know how important it is to ensure we have optimum eye health – so take this opportunity to have a full, comprehensive sight test at Coleman Opticians, in either our Norwich or Great Yarmouth store and receive 15% off your new glasses (excludes NHS and Budget range).

Coleman Opticians Vision and Hearing centres are located in Norwich and Great Yarmouth, offering excellent eye care and audiology services for over 70 years.

There are designer label glasses to suit every style and budget, full contact lens fitting and after-care services, and the biggest, dedicated children's area in Norfolk.

Offer includes single vision, bifocal, varifocal and occupational lenses and all coatings.

For eye care as unique as you, pop in and see the difference!
Cabins Unlimited special offer to
Buy local Norfolk

Members

• 10% discount of all Albany Sheds, Workshops and Summerhouses
• Discounts on Concrete or Plastic grid base (Probase) Supply and Install – Price on application)
• 10% discount on all installation prices for 44mm log cabin, office building, summerhouse installations

We have a huge range of sheds, log cabins, office buildings, garages, workshops and garden buildings and as a member of Buy Local Norfolk we will always be happy to offer a discount to members only. We are very experienced in helping our customers find a building to suit their requirements and have over 600 models to choose from as well as bespoke models made to order.

For more details contact us on 01362 470075 or go to our website http://www.cabinsunlimited.co.uk/ or come and visit our display site at Aldiss Park, Dereham Town Football Club, Norwich Road, Dereham, Norfolk. NR20 3PX.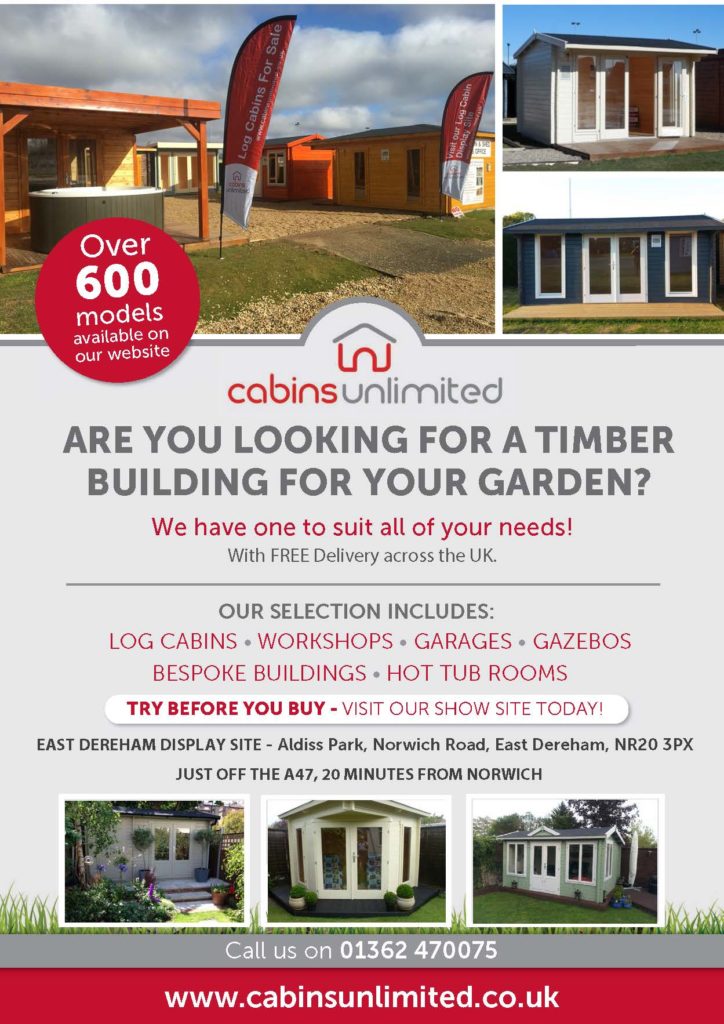 Great offer from Nu Image Design…
You're great, let us tell everyone.
As a Buy Local member we are proud to support other local businesses.
Getting started out in the word of online marketing or renewing your brand can be daunting, but we are here to help.
Our friendly team at Nu Image believe in an honest approach and cost effective results.
To get you started (or restarted) we are happy to offer members of Buy Local some really great deals, you can choose from either;
Our smashing web design team will happily offer you a 10% discount, off a new responsive website
Not to be beaten, if you prefer a new logo or shop signage, our branding team will match that, with 10% off also offered off the cost of designing your businesses rebrand.
Lastly, if your website and branding is already top notch, but just not getting enough traffic, you may prefer to dip your toe in the world of search engine optimisation (SEO). We will gladly give you your first month free when you sign up to 3 months. In the very unlikely case that you don't like what you see, there is no obligation to stick with us.
We would love to work with you and help your business become the best it can be so call us on 01603 715671 or email hello@nuimagedesign.co.uk to arrange an informal meeting or for a no obligation quotation.
Offer from Mike at Clean Tech…
As one of the new boys on the block I wish to offer any other member or employee of a member the following:
A household carpet of your choice and a single one door oven cleaned for just £119.00!
Excellent value – quality assured service.
Call Mike Barrett, 01485 609223 to book your appointment.
See what our customers from last week say about our services:
www.checkatrade.com/cleantechcarpetandovencleaning
Cash, Cheque and card payments accepted.
If I can be of any further help or assistance please call me,
Mike Barrett
The cleanest carpet & oven cleaning ever seen or it's FREE!
Tel 01485 609223
e mail: mike@cleantech-norfolk.co.uk
Check us out on checkatrade: www.checkatrade.com/CleanTechCarpetAndOvenCleaning
Offers from Jane at Perfect Pamper…
Treatments:-
60 minute full body Swedish massage – £25 save £15
30 minute back, neck and shoulder massage – £15 save £10
60 minute Neal's Yard Remedies organic facial – £20 save £10
Full set of volume eyelash extensions – £50 save £10 (pre-treatment allergy patch test will be required 48 hours prior to treatment date)
60 minute luxury Neal's Yard Remedies organic manicure or pedicure £20 – save £10
12% off (mobile) 30 minute Chill-Out pamper parties for groups of 5 or 6. Travel not included.
To book; call Jane 07880653076 or email jane@perfectpamper Facebookmessage perfectpamperparty , Twitter @perfectpamper
The above treatments are salon-based at Mistique Hair and Beauty, Colindeep Lane, Sprowston.
The discount is available to Buy Local Norfolk members and their staff only.
Booking is subject to availability and cannot be used in conjunction with any other offer.